New standing meeting/conference room table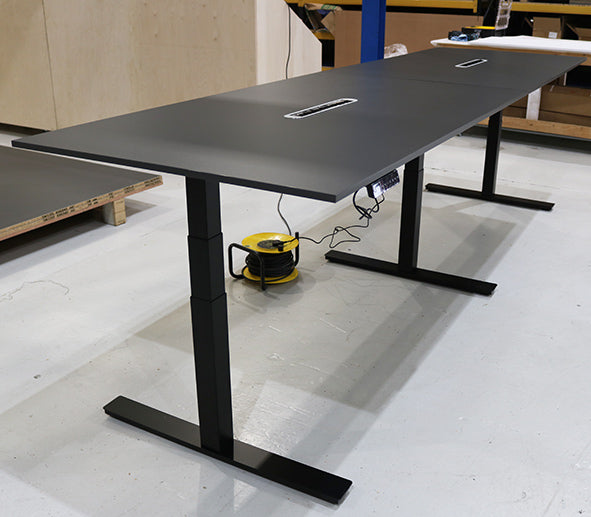 We recently supplied a height adjustable boardroom/meeting table to match desks a customer had already bought from us for a new office fitout. This is not one of our standard products so you won't find it available for purchase on our website, but it is something we can supply. The extra-long desk frame has all the same features as our Commercial Square S2 desk frame but with longer side arms and feet to accommodate a larger depth of table top. This one has been fitted with two 1.75x1m Anthracite desktops fitted with brushed cable slots. As with all new products we fully assembled it in the workshop for QA before dispatch and we have to say the finished product looks fantastic. Although this product is currently only available through contract order we are so impressed with it that we are considering adding it to our product range in 2022.
Bespoke orders such as this demand a slightly longer lead time than our standard desks as the materials need to be sourced and cutting/drilling programmes written for the CNC machine. As such price will depend on the specifications and requirements set out by the customer. If you wish to enquire about a bespoke height adjustable boardroom/meeting table, feel free to send your details through to info@gostand.co.uk and we will be happy to take a look.
Leave a comment
Comments will be approved before showing up.